The Jack Nicklaus Overachiever Drill
Understanding how to create space in your golf swing is usually the first concept that people miss out on, leaving them with a lot of tension and stress in their swing, for the rest of their life. The best way to describe this is to paint a picture that gets you thinking about dynamic motion and how important it is to have space to move. Imagine that your life depends on you breaking down a door by putting your body weight through it…if you begin by putting your nose up against the door, you will immediately feel uncomfortable and want to back away from the door, in order to create space for power.
The Power Behind The Golf Swing of Jack Nicklaus
What you are sensing is that you need to let your body gain momentum by using gravity and harnessing your natural kinetic energy to move yourself through the object. All PGA Tour players are able to get their mass moving towards their target at the point of impact, however learning to do it in the most efficient manner and is something that separates the good, from the greats. Jack Nicklaus felt this as good as anyone that has ever played the game of golf.
To relate this to a golf swing, if you walk up to your shot and ground the club right next to the ball you typically will have your weight balanced in that same place, which is the same as pushing your weight right up next to the door. This is why the first instinct for most people is to sway off the ball in the backswing in order to have room to then fall back through it.
How To Use Drills To Harness Kinetic Energy In The Golf Swing
Watch this unique drill, which was used by Jack Nicklaus in an effort to get him to finish his golf swing on his front foot and allow him to get all of his mass through his shot. Just as Tiger has been quoted recently, getting his mass moving through impact is essential to having an efficient swing that is easy on his body. This is what is known as a high smash factor in modern terms.
Next time you go to practice, setup with your club and balance point a good foot behind where the ball is on the ground. When you swing, you will find that you have to wait long enough to get your body falling in the direction of your target in order to make contact with the ball. By doing this you are getting yourself started on the first step to utilizing gravity in your golf swing. Over time you will be able to move the ball farther back and learn how to sequence inside of a smaller amount of space. However, anytime you start to feel "jammed", move that ball way back out there and practice getting your body into motion again. Enjoy, and allow the natural free motion to be your guide throughout your game.
Blog By: Daniel Lee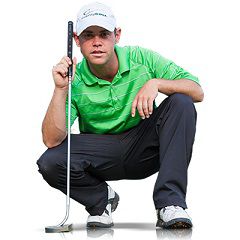 Also Read: Hit More Greens by Playing Percentage Golf Shots by Daniel Lee